Making the Most of the 80/20 Rule to Improve Productivity
---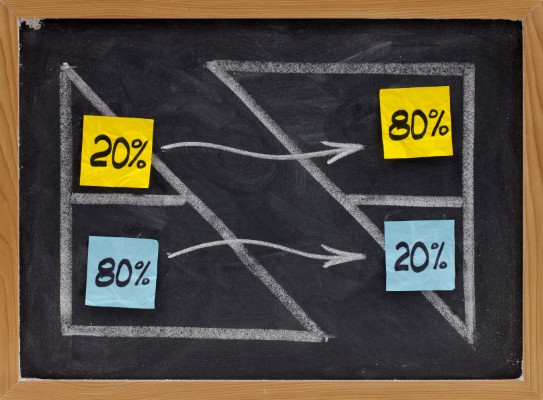 Every office worker can think of at least one colleague with who appears to waste a lot of time during the day. It seems peculiar, and you wonder how they have so much free time. It is possible that this person has learned to use the 80/20 rule to their advantage.
The 80/20 rule, also known as the Pareto Principle, states that an 80/20 imbalance exists in most input/output relationships. This essentially means that a mere 20% of what you do each day produces 80% of your results. Once you complete 20% of your work, the rest has a minimal effect on your performance and overall productivity level.
Set a timer and spend the first 96 minutes of your morning focused on your number one priority item
So, how do you go about making the best use of the 20% of your time that actually leads to results? First, identify the number one priority item on your to-do list. It should be a task that has to be done by you (meaning it cannot be delegated to a co-worker) and it should be relatively urgent. Next, calculate 20% of your day. If you work 8 hours then 20% is 96 minutes. Set a timer and spend the first 96 minutes of your morning focused on your number one priority item. To eliminate distractions you may find it useful to invest in a privacy screen for your cubicle, or even book a small conference room where you can work without being disturbed.
Did you know? A study by Basex, a New York research firm, found that workers were only able to devote an average of 11 minutes to a project before being distracted, and once distracted it took them an average of 25 minutes to return to the task.
If you are able to work for  96 minutes (20% of your day) without interruptions the amount of progress you will have made will be enough to maintain, if not improve, your productivity.  It also frees up the other 80% of your day for those small yet time intensive tasks such as shredding documents, answering email, returning phone calls, and prepping for meetings.  Using the 80/20 rule to your advantage can help relieve stress in your workday and allow you to improve work/life balance. Finishing the most important tasks first helps you leave work on time more often.
~Kathleen Sales