Don't Waste Time – The Clutter Clean-up Sweepstakes Starts Today!
---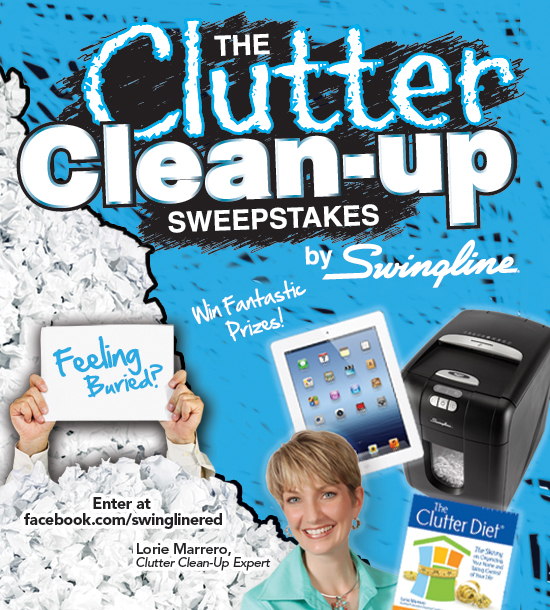 Summer is just a few short weeks away! Here at Swingline® we want to make sure that all your spring cleaning will not go to waste . Eliminating clutter, getting organized and staying that way can be a challenge, but we know one woman who has it all figured out.
Lorie Marrero is a professional organizer and author of "The Clutter Diet®" book and online program. By entering in the Clutter Clean-up Sweepstakes you have the chance to win personalized help from Lorie, an iPad 3 and other great prizes that will help you manage a busy schedule with less clutter and less stress.
Sweepstakes grand prize includes:
• 3 hours of video consultation with Lorie
• Brand new iPad3
• ACCO Brands® clutter clean-up prize pack of organization products
• Swingline™ Stack-and-Shred™ 100X Shredder
The 100X is a Hands Free Shredder, and one of the best tools to have when you are trying to prevent clutter. Fast and easy, this Stack-and-Shred model shreds up to 100 sheets automatically. You gain free time because no manual feeding is required. Just stack, shut and you're done – it's that easy!
Everyone who visits our facebook page and enters the Clutter Clean-up Sweepstakes between June 1st and June 29th will receive a free guide from Lorie that includes top rated tips on ways to de-clutter and organize your office. There will also be weekly winners and prizes throughout the month of June, so the sooner you enter the better!
By: Kathleen Sales