Clutter Clean-Up Tip #1 – Use Better File Names
---
Hello organization, goodbye clutter!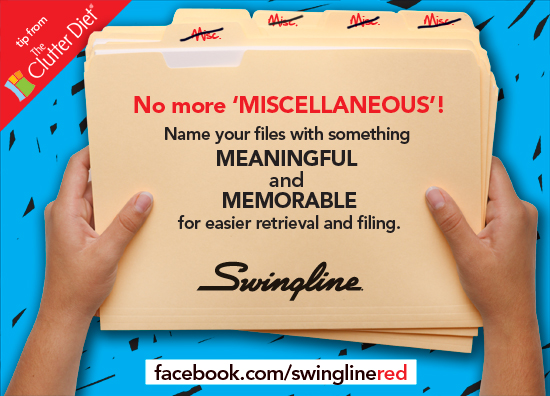 Paper is probably the Clutter Diet's #1 enemy. Stacks of paper build up quickly and finding a way to stay organized amidst the piles can be a real challenge. A classic office worker's tool in the battle against clutter is a file folder. Placing papers in a file can get them off your desktop, but will you be able to find that paper if you need later?
The trick to turning file folders into a truly useful tool is to name them with something that is meaningful and memorable. Labeling a file folder "Miscellaneous" is a recipe for disaster. Clearly label the folders to match the papers you will place inside, such as "Sales Reports 2012" or "My Trip to Denver."
This not only allows you to retrieve the papers you need easier, but helps you file things faster. Knowing you have a file folder specifically for each sheet of paper that comes across your desk eliminates the need for you to spend time deciding where to put it.
Visit our page and enter the Clutter Clean-Up Sweepstakes for a chance to win our grand prize, which includes a free video consultation with Lorie Marrero – professional organizer and creator of the clutter diet.