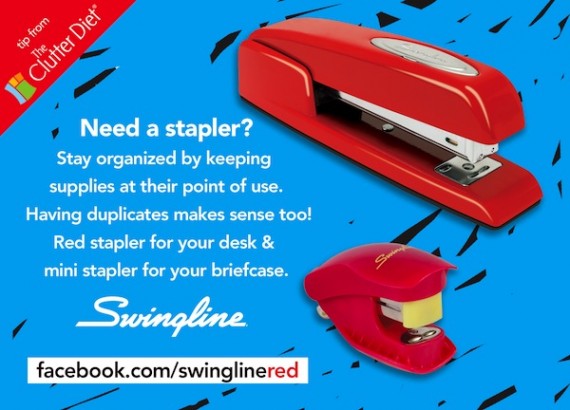 There are few things more frustrating than being in a rush and not being able to find what you need. It may seem like you are neat and organized when you store everything in your desk drawers, but in this case a clear desktop is a misconception. To make sure you can always find your most trusted office supplies when you need them, try this tip:
Stay organized by keeping supplies at their point of use.
If you find yourself consistently needing to staple, then it is best to leave your stapler in plain view on the desktop. Dedicating space for it is smarter than having to search each time you need it. Sometimes, it is even best to have duplicate office products. If you staple quite often, keep your reliable red stapler at your desk and buy a second one to take with you on the go. A mini stapler, like the Swingline Tot®, is ideal for keeping in your briefcase or laptop bag. Keeping tools where they are needed most, and buying duplicates, will help you stay organized and save time.
Visit our page and enter the Clutter Clean-Up Sweepstakes for a chance to win our grand prize, which includes a free video consultation with Lorie Marrero – professional organizer and creator of the clutter diet.