Clutter Clean-Up Tip #6 – Shred More
---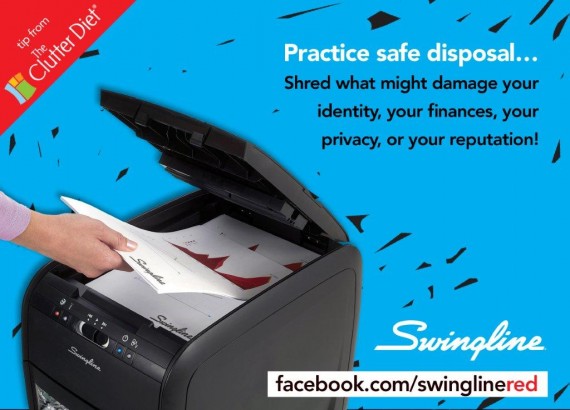 Take a look around your desk at work and at home. What is the culprit of all the clutter? Most likely, it's paper. Between mail, memos and reference documents the battle against paper can be never ending. The easiest way to clean-up clutter is to get rid of all the papers you do not need, but you do not want to go straight for the trash. Follow this tip:
Always practice safe disposal.
It is very important to shred paper before you throw it out. If you are not sure what papers to shred, it is a good idea to follow the saying you are better safe than sorry. Shred any papers that might contain information that puts your identity, your finances, your privacy or your reputation at risk. Plus, you can do your part to help protect the environment and use recyclable paper bags to line your shredder bin. Or, recycle your shreddings right at home by reusing them. Shredded paper can take the place of Styrofoam peanuts when packing, and can be used as compost material.  Swingline® is proud to offer a full line of shredders to meet your document security needs – visit our website to see all the options including large office, small office and hands free shredders.
Visit our page and enter the Clutter Clean-Up Sweepstakes for a chance to win our grand prize, which includes a free video consultation with Lorie Marrero – professional organizer and creator of the clutter diet.