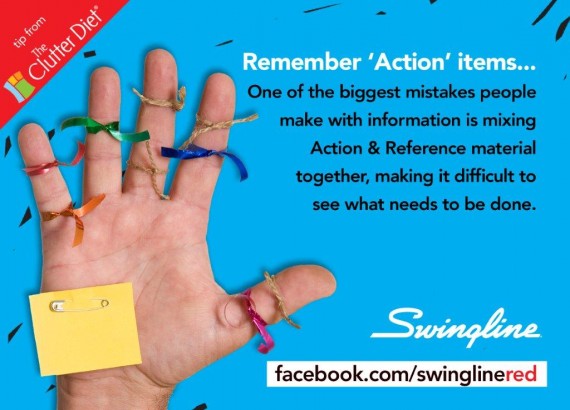 Most jobs today require workers to do a fair amount of multitasking and project management. It is easy for a couple tasks to slip your mind when you have so much on your plate. The key, once again, is to get organized. Not mixing up the paperwork you receive will help you keep track of what actually needs to be done. Try this tip:
Remember 'Action' items by giving them a designated space.
One of the biggest mistakes people make with information is to mix action and reference material together. What's the difference? Action items are things that require you to do something, while reference items are something you just need to look at. An example of an action item is a customer request for product information, while a reference item is a new company phone list. Keep the 'Action' papers separate from the reference documents, and it will be easier to see what you need to do. Start separating action items today to forget less, manage time better and complete all your to-do tasks.
Today is your last chance! Like the Swingline facebook page and enter for your chance to WIN The Clutter Clean-Up Sweepstakes.
Visit our page and enter the Clutter Clean-Up Sweepstakes for a chance to win our grand prize, which includes a free video consultation with Lorie Marrero – professional organizer and creator of the clutter diet.