Tell us what you want to see shredded in the Swingline Stack&Shred and be entered to win one!
---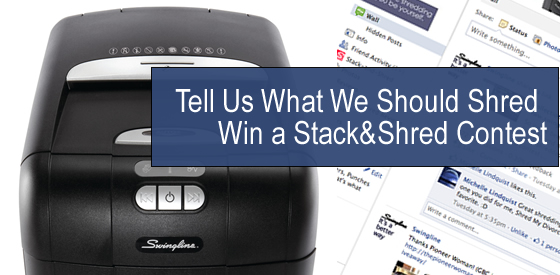 1- Share to Enter

Spread the word to get your entry into the contest! You can come back and enter every day until the 7th of November.

1: Like on Facebook

2: Tweet the Contest Details

2- Tell us what you want to see Shredded

Tell us what you want to see shredded and be officially entered to win a Stack&Shred! We'll also be giving away several of our famed red Swingline Staplers to those that participate. In addition, as we get requests we will select some of those and SHRED those requests on our Youtube page. Tell us on our Facebook Page or Tweet requests @Swingline and you'll be officially entered to win a Stack&Shred!

Tell us what to shred on our facebook page now: http://www.facebook.com/swinglinered

Tell us what to shred on Twitter now: http://twitter.com/swingline

Check out videos we've done so far on youtube: http://youtube.com/swinglineofficial
CONTEST RULES
1. Submit your Stack-and-Shredshredding ideas to the Swingline facebook page at: http://facebook.com/swinglinered or by replying to Swingline's profile on Twitter.com: @swingline
2. All ideas will be considered as a submission to the contest but only a select few will be video taped
3. You may submit multiple entries as long as the entries are unique
4. Entries must be your own ideas, entries copied from others will not be considered.
5. Email entries will also be considered:
Email: accoswingline@gmail.com
6. Submission of a shredding idea constitutes your agreement to the Swingline Terms & Conditions.
TERMS AND CONDITIONS
1. Tell us what you want to see shredded in the Swingline Stack-and-Shredand be entered to win one! Contest runs from October 1st, 2011 to Nov 7th, 2011. All entries are to be posted on our Facebook or Twitter profile or emailed no later than 11:59pm U.S. Central Time on Nov 7, 2011.
2. Entries must be submitted using the guidelines stated
3. Submitted ideas must be your original creation
4. All contestants will be required to agree to the Swingline Stack-and-ShredContest Terms & Conditions in order to enter.
5. The Swingline Stack-and-ShredContest will be decided by a random drawing of users on November 14th, 2011.
6. By entering this Contest, each contestant consents to the use of his/her name, and/or in any videos, blog posts or advertisements without further notice or compensation. Swingline Stack-and-ShredContest! can publish or decline to publish, or use or decline to use, any submitted ideas at their sole discretion.
7. Prizes are as follows: The Grand Prize Winner will (a) receive a Swingline Stack-and-Shred($499.00 value). (b) see their ideas shredded in the Stack-and-Shredon our Youtube page (c) Three randomly selected contestants will win a Swingline Red Stapler ($49.00 value).
8. The Contest Sponsor's rulings are final and without appeal in all matters related to this Contest and the awarding of the Prizes. The Contest is subject to all applicable federal, provincial and municipal laws and regulations.
9. All entries become the property of the Contest Sponsor and will not be returned.
10. Contest Sponsor, its advertising and promotion agencies assume no responsibility for lost, stolen, delayed, damaged, illegible, incomplete, postage-due, garbled or misdirected entries or entries that have been submitted through illicit means, or do not conform to or satisfy the Contest Rules or for any problems or technical malfunction of any telephone network or lines, computer on-line systems, servers, access providers, computer equipment, software, failure of any entry to be received or traffic congestion on the internet or at any website, or any combination thereof including any injury or damage to an entrant's or any other person's computer related to or resulting from playing or downloading any material in the contest.
11. The Contest Sponsor will not share any personal data about entrants with any other party. The personal data collected for this Contest will not be used for any other purposes unless entrants provide explicit permission as indicated on the entry form. The Contest Sponsor collects your personal information for the purposes of registration, program evaluation and to keep you informed about The Contest.
12. By entering this Contest, entrants agree to release and hold harmless the Contest Sponsor and their respective employees, officers, directors, agents, representatives, successors, assigns, advertising and promotional agencies from any liability for any loss or damage of any kind to the entrant or any other person in connection with this Contest or participation in any Contest related activities, including but not limited to the use or misuse of a prize or any portion of a prize including personal injury, death or property damage.
13. The Contest Sponsor reserves the right, in its sole discretion, to modify, cancel or suspend this Contest should an external circumstances arise which are beyond the reasonable control of the Contest Sponsor. The Contest Sponsor is not responsible for any errors or omissions in printing or advertising this Contest. This Contest will run in accordance with these Contest Rules, subject to amendment by the Contest Sponsor. Contest Sponsor reserves the right to cancel, amend, modify or terminate this Contest or the Rules at any time in its sole discretion and without notice.
14. Contestants must be 21 years of age or older, contest valid in contiguous United States only.
15. Entrants must comply with these rules, and will be deemed to have received and understood the rules if they participate in the Contest.
Further Inquiries:
Andy Sauter
312-927-2435
accoswingline@gmail.com
474 N Lake Shore Drive #2302
Chicago IL 60611