Red Stapler Bench – Larger than Life Stapler
---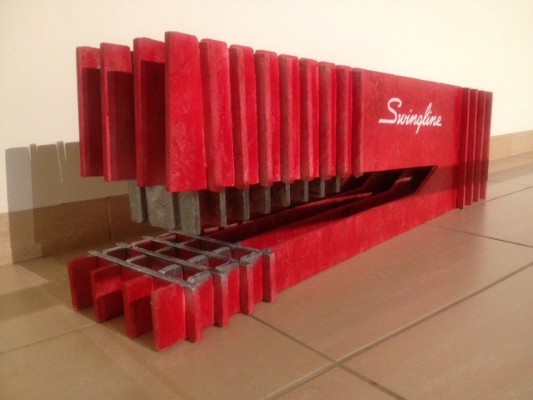 Taking an everyday object and making it gigantic is always impressive. It is the basic concept behind many artistic statues.  And with every statue, there is a bench nearby so that you can sit and admire it. We would like to highlight our all-time favorite bench in this blog past.
We received an email from a fan of Swingline, Emily Mackevicius. As part of a class she is taking at MIT, Emily decided to make a giant stapler. It took quite a bit of work, as documented on Emily's webpage.  The stapler doesn't actually staple, yet, but it does make an awesome bench. To make the bench instantly recognizable as a Swingline stapler it was of course painted bright red. With our permission, Emily added a Swingline logo and voila – the red stapler bench is complete.
The red stapler has been making quite a few larger than life appearances lately, also appearing as a Halloween costume. If you see the Swingline 747 Rio Red Stapler out on the town, huge or regular size, make sure to upload it to the Iconic Red Stapler page on our website.  Go there now to see other unique photos of the red stapler in action!